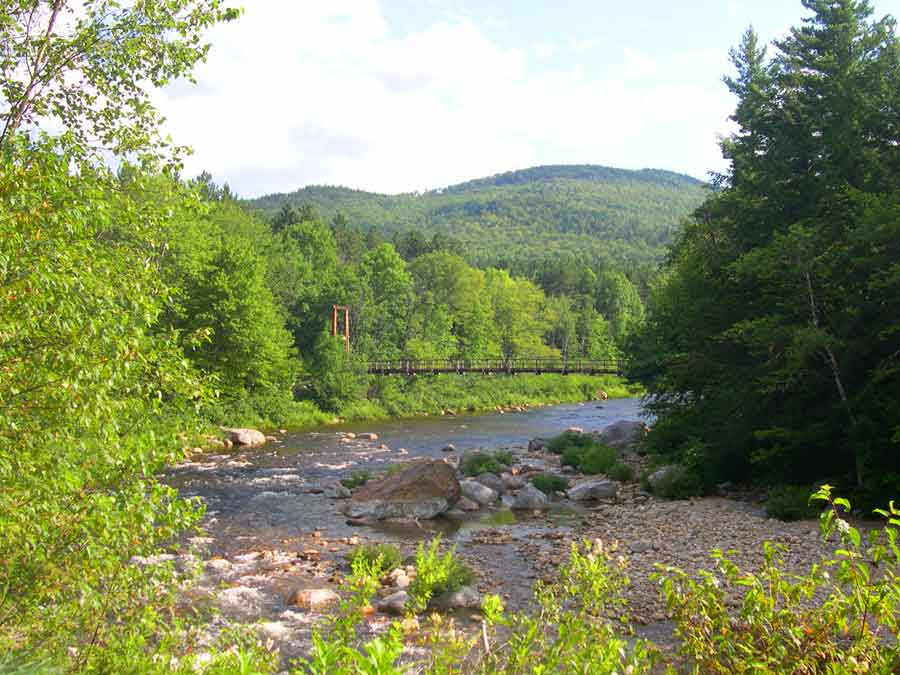 The White Mountain National Forest extends into Maine just below Bethel. Even many Mainers are unfamiliar with this lightly used portion of national forest. Route 113 skirts the west side of the Maint portion, passing through Evans Notch, with access to scenic overlooks, trailheads, and campgrounds. Most of this route is mixed hardwood with some hemlock and balsam fir. Veery, Swainson's thrush, and hermit thrush are everywhere. Warblers are likely to be black-throated green, black-throated blue, blackburnian, black-and-white, northern parula, American redstart, yellow-rumped, and magnolia.

Three miles south of Gilead on Route 113, the turnoff toward Wild River passes a pond that often contains hooded mergansers and may hold other waterfow1. Belted kingfishers and great blue herons readily use this pond. The road continues into New Hampshire where Wild River Campground is located. Mountain trails at the southern end of Route 113 in the White Mountain National Forest rise into the high elevation spruce zone, where Bicknell's thrushes, boreal chickadees, Canada jays, and blackpoll warblers may be present, but trails at the north end near Hastings Campground do not reach sufficient elevation to find these boreal specialties.

Crocker Pond is a small campground (7 sites) on the east side of the forest. The access road and many of the wetlands in this area are extraordinarily rich, both in birds and moose.

• An auto tour begins at Patte Brook, where tour maps are normally stocked. An early stop along the road leads to an opening in the woods. This path is alive with warblers and thrushes, though the area is also prone to ticks in the first half of summer. Take precautions. Expect black-throated green, black-and-white, magnolia, yellow-rumped, and Nashville warblers. Watch for ovenbirds, northern parula, common yellowthroats, and American redstarts. Veeries, Swainson's, and hermit thrushes are all possible. Winter wrens are common.

• Albany Mountain is a relatively easy hike. The summit view is partially obscured. The forest passes through habitat for many woodpeckers, thrushes, and scarlet tanagers.

• Patte Marsh is a 45-acre wetland improved when the U.S. Forest Service and Ducks Unlimited cooperated to repair an outlet dam in 2002. The shallow pond is ideal for moose and they are often present. Waterfowl can be abundant in spring and fall.

• Broken Bridge Pond is another good stop for ducks and moose. Common mergansers frequent this particular flowage. Hooded mergansers can be expected in any of the local ponds. Beyond this stop there is another gated road that opens the forest canopy enough to enable good views of warblers along the edge.

• The road ends at Crocker Pond. Park in the parking area and walk back along the access road for the many warblers, vireos, woodpeckers, thrushes, wrens, kinglets, chickadees, nuthatches, and creepers that inhabit this forest. Expect Eastern phoebes around the campground and the pond, and least and great-crested flycatchers along the road. Accipters use the road as a hunting corridor, with sharp-shinned, Cooper's, and northern goshawks all possible. Barred owls take over at dusk. There is a hiking trail on the far side of the parking lot that leads to Round Pond. The mile-long walk is relatively flat and easy, though damp. Bird activity is frequently close to the trail.

Directions: Crocker Pond may be reached from Route 2 via Flat Road in West Bethel or from Route 5 in Albany just south of Songo Pond. Follow the signs. Crocker Pond Campground has pit toilets and there is a fresh water hand pump at the entrance of the parking lot.