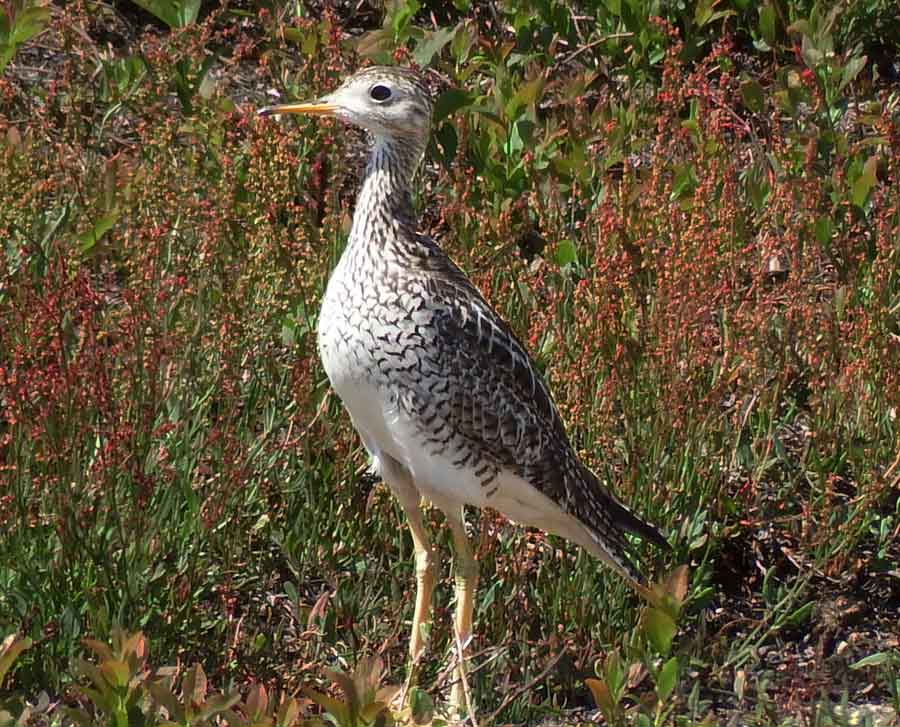 Blueberry barrens are extensive in Washington County. These are the largest lowbush blueberry fields in the world. Two special birds call them home: upland sandpipers and vesper sparrows.

Blueberries are a commercial crop. The lands and most roads are private and offlimits. However, one of the best sites can be accessed by the public right-of-way in Columbia that passes through the blueberry fields. Depending on your map or navigation, the road may go by several different names: Ridge Road, Pea Ridge Road, or Schoodic Road. The best entrance is from Four Corners on Route 1 in Columbia, proceeding 3 miles north on Station Road, turning left onto Pea Ridge Road. Sandpipers and sparrows can be found anywhere along this road, but they are often easiest to find in the vicinity of the power line running across the barrens.

It is prohibited, and unnecessary, to trespass into the fields, where chemical spraying and bee hives may make that inadvisable. The birds can usually be spotted from the road. The blueberry crop is on a mowing rotation schedule, which encourages production, so expect the barrens to be a patchwork of nearly-bare ground alternating with lush growth. Upland sandpipers prefer thinner cover and are more likely to be observed in the open. Vesper sparrows are most easily seen while they are singing or flitting about the lush blueberries, generally in thicker vegetation. They like to perch up on rocks and trees.

Be aware that bee hives will cover the fields during pollination season from mid-May until early-June. Harvest is in August. The best time to visit is June and July. Winter is also exciting, because it can be one of the best places to look for snow buntings and northern shrikes.

Similar fields can be scanned from Route 193 in Deblois, taking care to stay out of the fields and off private roads.


---
---
GPS: 44.670788, -67.829174