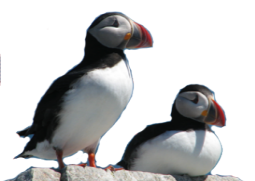 Best Nests - Greater Portland and Casco Bay
Birder Friendly Accommodations
►Fairfield Inn and Suites - Brunswick.
Brunswick straddles the line between the Greater Portland region and the Midcoast region, with easy access to both. Travel a short distance south to LL Bean in Freeport or wander east to the famous beaches of Reid and Popham Beach State Parks. Brunswick is home to Bowdoin College, which imbues the town with an appreciation for fine arts and nature. The Fairfield Inn and Suites fit neatly into this sensibility. Certified: Environmental Leader.
►White Cedar Inn B&B - Freeport.
It's just a two block walk from this charming B&B to the world famous LL Bean store, not to mention the many outlet stores and restaurants nearby. The true flavor of Maine is concentrated in this little town. For birders, though, Freeport is attractive because it is just a short distance from several state-famous birding spots, including Bradbury Mountain - Maine's #1 hawk-watching site during spring migration. Wolfe's Neck Woods State Park, Winslow Park, and Maine Audubon's Mast Landing are also very close. From here, it's only a half hour to Portland, and all of the sites of the Maine Beaches and Midcoast regions are within an easy daytrip distance of the inn. Certified: Environmental Leader.
►Inn By The Sea - Cape Elizabeth.
It's easy to get spoiled at this incredible inn, which overlooks the ocean just behind Crescent Beach State Park. Excellent rooms, a renowned kitchen, and luxurious amenities await birders at the end of an exciting day in the field. And that day in the field is just minutes away. Inn By The Sea is adjacent to several Maine Birding Trail sites, including Dyer Point and Kettle Cove. Scarborough Marsh is just down the road. If that weren't enough, the inn has deliberately landscaped its acreage for the benefit of wildlife. Walk the paths slowly and quietly to see what pops up. Certified: Environmental Leader.
►Homewood Suites by Hilton - Scarborough.
Homewood Suites by Hilton is nestled at the entrance to Southborough Business Park, and tucked behind the brand new exciting Sebago Brewing Company, just minutes from Portland Jetport. It is ideal for anyone looking for corporate housing for a short or extended stay in the area. This all-suite upscale residential living style hotel offers all the comforts of home while traveling. It's a must for executives who wouldn't think of leaving home without binoculars. Sure it's close to most of the largest companies in Maine's largest city. Nobody else needs to know that it is also close to Maine's largest saltwater marsh and a dozen other great birding sites.
►Courtyard Marriott - South Portland.
Only 3 miles from Portland Jetport, minutes from the Maine Mall, and with easy access to I95 and 295, Courtyard by Marriott Portland Airport is in the perfect location to begin a birding adventure in Maine. After a flight into Maine's largest airport, a stay at this Platinum Award property makes a good jump off point for traveling to other destinations throughout the state. But save plenty of time to explore nearby Scarborough Marsh and other local hotspots. Some of the best birding in the state happens to be right nearby. Certified: Environmental Leader.
► The Pride Motel and Cottages - Scarborough.
You can't get much closer to Scarborough Marsh than this. Enjoy a good night's sleep and then greet the dawn by sorting out the Nelson's and Saltmarsh Sparrows just down the road. Or drive another six minutes and try your luck with Roseate Terns at Pine Point. With the marsh and the Eastern Trail Bicycle Path so close, active people seek out the motel for its convenience. Kitchens in the cottages make mealtimes flexible and inexpensive for a birder on the go. The quiet grounds are secluded from busy Route One, so the convenience of its location does not come at the cost of a noisy night. Certified: Environmental Leader.