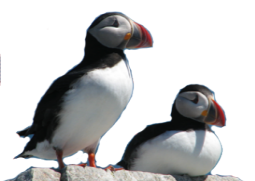 Best Nests - The Maine Highlands
Birder Friendly Accommodations
►Historic Pittston Farm - Seboomook.
Historic Pittston Farm is located above Moosehead Lake, in the heart of the working forest. Be aware: you'll be 20 miles from the nearest pavement. This hundred-year-old wilderness complex used to be headquarters for Great Northern Paper logging operations. It's been converted and modernized with solar power, wind power, WIFI, and great food. Seriously, if you want to experience the true Maine forest, with all the incredible scenery and wildlife, this is it. And the inn can even provide a localized birding guidebook to help you locate target species.
►The Big Moose Inn - Millinocket.
Located lakeside, adjacent to The Golden Road, near the entrance to Baxter State Park, this complex is headquarters for birding, moose-watching, photography, and other exploits like white-water rafting. So many adventurers use the inn that accommodating unusual schedules and requests is second-nature for the staff. Plan to dine in. The restaurant and bar are excellent.
► Spencer Pond Camps - Kokadjo.
These six remote lakeside log cabins are the only cabins on the pond. Located 34 miles from Greenville, this is a remote, wilderness experience. Built in 1901, Spencer Pond Camps sit in the shadow of Little Spencer Mountain (with its resident population of Bicknell's Thrushes on top). The rustic-cozy cabins are fully equipped for housekeeping and comfort with screened porches and rocking chairs, private docks, and canoes, kayaks, mountain bikes all provided to use free of charge with each cabin rental. Certified: Environmental Leader.
► Moosehead Hills Cabins - Greenville.
To experience the full adventure of what the Maine Highlands has to offer, make your headquarters a log cabin on Moosehead Lake or Loon Lake (aka Wilson Pond). Besides the incredible birding in the area, the full range of outdoor activities is at your disposal. Hike, canoe, kayak, moose watch, or just sit on the porch and count up the day's lifers. Pre-season rates are in effect during the best, early summer birding period. Particularly good for couples traveling together or with dogs. Certified: Environmental Leader.
► Brewster Inn - Dexter.
Put yourself in the geographic heart of the state. Surround yourself with history. This is the former mansion home of Maine governor and senator, Owen Brewster, and it is on the National Register of Historic Places. Your English host, Mark Stephens, adds an additional spice of culture and elegance. From here, you can run up the road to the Moosehead Lake area for boreal birding and adventure, or you can run into the Bangor area, or run over to the coast. Or don't run anywhere. Just relax in a small New England town in the center of the Maine Highlands. Certified: Environmental Leader.
► Econo Lodge Inn & Suites - Bangor.
Turn right out of the parking lot, turn left at the light, go anywhere. Also located at the I-95 and I-395 intersection, you can be in Acadia National Park in less than an hour. Or zip up the interstate in search of boreal chickadees and other birds of the northern forest. Economical, pet-friendly, heated pool, free airport shuttle, business facilities, wide choice of room types, free breakfast, in-room coffee - for a birder-on-the-go, what else do you need?

► Days Inn - Bangor.
The Days Inn and nearby Econo Lodge (below) share a significant advantage. Both are located near the intersection of I-95 and I-395. This is the crossroads where birders can venture north for boreal specialties or east to the coast and Acadia National Park. From here, each direction is just an easy day trip. Both are near the airport and feature free shuttles. Both are inexpensive. The Days Inn is particularly convenient for meals, with the popular Ground Round restaurant located next door. The inn also features a heated pool and excellent business facilities.
►Courtyard Marriott - Bangor.
Experience true Maine hospitality at the new Courtyard by Marriott hotel in Bangor. This state of the art Bangor hotel offers the new Courtyard by Marriott design, the latest technology, amenities and decor. Convenient to Bangor International Airport, it's a great starting point for vacationers flying into the region to begin an adventure or who wish to base multiple daytrips from a single central location. For business travelers with binoculars, it is near the University and most major businesses, as well as great birding spots. Certified: Environmental Leader.