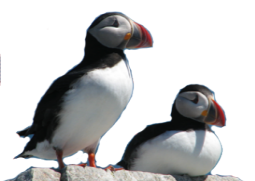 Best Nests - Downeast and Acadia Region
Birder Friendly Accommodations
► Eastland Motel - Lubec.
Three Maine Birding Trail sites and nearly every species sought after by birders in downeast Maine are within 15 minutes of this motel. Snap up a Spruce Grouse or Boreal Chickadee before breakfast. It's just five minutes to Canada's Campobello island (make it a 2-nation vacation!). It's only 7 minutes to the state's best shorebird beach, and 12 minutes to Quoddy Head State Park. It's 9 minutes to the headquarters of the Downeast Spring Birding Festival and only a few minutes more to Moosehorn NWR - Edmunds Division. Going to Cutler for the puffin tour to Machias Seal Island? You're less than 30 minutes away. Need help? Your hosts have guides and maps to good locations nearby. Chances are, the folks in the next room are birders, too.
► Lubec Bay Cottage - Lubec
This is an extraordinary opportunity. This stylish rental cottage looks out onto the South Lubec Sand Flats, arguably one of the top ten places to bird in Maine. Sit on the porch and listen to the Nelson's Sparrows. Hit the flats in shorebird season and marvel at the diversity. Wander up the road to Quoddy Head State Park and scan the Grand Manan Channel for Razorbills and Common Murres. You're less than 10 minutes away from one of the most notorious Spruce Grouse sites in the state. This is the epicenter of birding downeast, and you can wake up every morning right in the middle of it. Book quickly. It fills fast. Certified: Environmental Leader.
► Machias River Inn - Machias.
This is where birders stay in Machias. It's ideally located, 30 minutes from the puffin tour boat that visits Machias Seal Island from Cutler Harbor. It is midway along the downeast coast, putting many birding sites from Schoodic Point in Acadia National Park to Moosehorn NWR within reach. Best of all, every room looks out onto the Machias River, which is often teeming with birds. Shorebirds at low tide give way to terns, gulls, and waterfowl at high tide - maybe even a harbor seal out your back window. Expect a Bald Eagle roosting across river. Walk up to the Sunrise Trail and find the Nelson's Sparrows. When you're tuckered out and ready to eat, you're right next to one of the most popular restaurants in downeast Maine. The motel is much more comfortable than its economical price would suggest. No wonder many birding tours stay here.
►9 Perio Point - Beals Island
"Unique" is insufficient to describe this four bedroom house. Situated on the water in the middle of the downeast coast, overlooking the lobster boats of a working harbor, hidden from the rest of the world, this location is unmatched. There are so many hidden spots for birding nearby that it takes a week to explore this section of Maine's coast. (We'll tell you how.) Share expenses with friends or keep the house all to yourself. A full kitchen facility makes it easy to eat cheap and eat well, following your own schedule. Chasing boreal birds? The Nature Conservancy's Great Wass Island Preserve is just down the road. It's known for Spruce Grouse, but other northern forest inhabitants are present, too. Be forewarned, the "Maine accent" is at its thickest here. This is authentic downeast Maine.
►Alamoosook Lakeside Inn - Orland
This is one of the first Inns to be certified under Maine's Environmental Leader Program, the Alamoosook Lakeside Inn provides guests an opportunity to savor the beauty of nature in a retreat-like setting. The area supports a diverse wildlife population including loons, bald eagles, deer, beaver and even a passing black bear. After a hearty breakfast, enjoy a day of sightseeing or simply swimming, fishing, or canoeing at our lake. The Inn is the perfect central location for visiting famous Maine tourist attractions in communities such as Bar Harbor, Acadia National Park, Blue Hill and Camden. Certified: Environmental Leader.
► Twilite Motel - Ellsworth.
When the top priority is birding, birders love the location and the economy of this motel. Sited just a mile west of Ellsworth, it is a quick run into Acadia National Park and the Bar Harbor area, but it is also within easy striking distance of the rest of the coastline and the boreal birding hot spots. It's 40 minutes southeast to Deer Isle. It's merely 30 minutes east to the Schoodic portion of Acadia National Park. It's just a half hour west to Bangor and then on to northern forest areas above the city. A big trip list often results from a stay at this motel because it is central to so many different habitats. Simple. Convenient. Affordable.
► Ann's Point Inn - Bass Harbor.
This inn is a four-diamond contemporary B&B on the quiet side of Mt. Desert Island--secluded and romantic, yet close to beautiful Acadia National Park and the towns of Bass Harbor, Southwest Harbor and Bar Harbor, Maine. Sitting on two acres at the end of a peninsula in Bass Harbor, this lovely inn is surrounded on three sides by scenic harbor waters. Four luxurious guest rooms with water views and nearly 700 feet of private shoreline suggest why some guests tell us Ann's Point Inn is "a little piece of paradise". Birders like the quiet solitude and the proximity to some of Acadia National Park's best birding sites, including this harbor, the Bass Harbor Head Light around the corner, the Wonderland and Ship Harbor trails just minutes away, and the expansive ocean views at Seawall in Manset. Certified: Environmental Leader.
► Bass Harbor Cottages - Bass Harbor.
These unique accommodations perfectly fit the lifestyle of a visiting birder: quiet, secluded, waterfront, close to some of the best birding spots in Acadia National Park, and equipped as an ideal headquarters for a multi-day exploration of both the park and the downeast coast. Get comfortable in a room at the Country Inn, or select housekeeping accommodations with a suite in the Boat House Cottage, or choose a fully furnished personal cottage. Located on the 'quietside' of Mount Desert Island, the harbor-side cottages have spectacular views of the water from a country-garden setting. Built in the late 1800s, The Country Inn is reminiscent of a by-gone era and offers comfortable rooms with queen beds, fireplaces, in-room refrigerators, in-room coffee and private baths. Full kitchen facilities allow birders the flexibility to keep any schedule.
► Inn On The Harbor - Stonington.
Perfect. On the waterfront overlooking the scenic harbor, in town among the shops galleries, and restaurants - each room is named after one of Maine's famous windjammer sailboats. The harbor is a famous launch site for kayaks, and the puffin tours from Isle au Haut Ferry and Old Quarry Adventures are close by. Bird hard; rest easy.