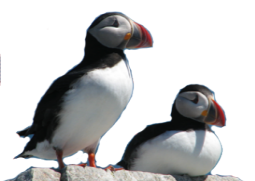 Best Nests - Aroostook
Birder Friendly Accommodations
► Northern Door Inn - Fort Kent
This is where the eastern United States begins. Here at the northern tip of Maine, iconic Route 1 begins in the dooryard of this inn and ends 2400 miles away in Key West, Florida. It is also the terminus of the 740 mile long Northern Forest Canoe Trail. Significant patches of boreal forest surround this community. Birders flock to the area in search of American Three-toed and Black-backed Woodpeckers, as well as the other boreal specialists found only in northern Maine. Here in the St. John Valley, don't be surprised if some native Mainers are speaking French. The cultural experience is as good as the birding!
► Historic Eagle Lake Sporting Camps - Eagle Lake
Give yourself the total Maine experience. Stay in one of the state's best sporting camps. Wake up to loons in the morning, eat a hearty breakfast, then chase northern Maine's specialties, including American Three-toed Woodpecker, Black-backed Woodpecker, Spruce Grouse, and Boreal Chickadee. Twenty mile-long Eagle Lake is one of the famous Fish River chain of lakes that stretches in northern Maine sixty miles through beautiful forest almost to the Canadian border, surpassing in primeval beauty and grandeur many of the better known woodlands and lakes of Maine. The camp was established in 1889. Bring your binoculars and a hearty appetite.
► First Settler's Lodge -Weston
You won't believe it until you see it. This section of Route 1 is one of America's designated scenic byways. And guess where the scenic rest area is located? Right across the street from the lodge, sharing the same spectacular view! This is one of the first stops on the way into the glories of Aroostook County - home to concentrations of Black-backed Woodpecker and Spruce Grouse. Logging roads penetrate the northern forest throughout the area, providing secret access to bogs and spruce stands where Boreal Chickadees, Gray Jays, and moose are regularly encountered. This area is also famous for wild lakes and excellent fishing. You wouldn't expect to find such an attractive lodge with fine dining in the wilder parts of Maine, so First Settler's Lodge is a very pleasant surprise!